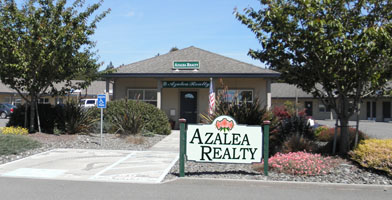 Welcome to Azalea Realty!
Humboldt County Real Estate Experts, serving Eureka, Mckinleyville, Arcata, Blue Lake, Trinidad, Willow Creek, Ferndale and all points between. Buy or sell your property with Azalea Realty.

Looking for property - residential, land, commercial?
First, review our
Office Listings
for sale below, or you can

Or only view
NEW LISTINGS and BACK ON MARKET in last week
Looking to visit Open Houses?

Azalea Realty, trusted by hundreds of your neighbors
Located on top of the hill in McKinleyville
Azalea works for you

3 Bedrooms 2 Baths - Eureka
Craftsman home near Henderson Center includes rentable studio apt., spacious lot, well maintained. MLS# 265674 More info


4 Bedrooms 1 Bath - Fortuna
1/4 Acre lot hosts refurbished home, luxury vinyl, new carpet, knotty pine ceilings. MLS# 265667 More info


3 Bedrooms 2 Baths - McKinleyville
On aprox 1/3 acre, sun room, primary suite with private patio access, radiant floor heat plus a woodstove, updated kitchen, double-car garage has lots of shelves and workspace. MLS# 265644 More info

2 Bedrooms 2 Baths - Blue Lake
Situate on a half acre lot, remodeled maufactured home in the Bigfoot subdivision,covered deck, mountain views, close to town and schools. MLS# 265541 More info

2 Parcels, 18.87 Acres Total - Redcrest
2 contiguous parcels along the Eel River: 1st is 10.19 acres with large barn and attached garage; 2nd is 8.68 acres. featuring redwoods and clearings. MLS# 265432 More info

3 Bedrooms 2 Baths - Arcata
1 acre in ARCATA with a farmhouse and detached barn/garage, pastoral views. Great price for an acre of land in Arcata, minutes from town. MLS# 265387 More info


4 Bedrooms 2 Baths - Blocksberg
Inspired by Wright's Waterfall Home, on 42 Acres of pasture and forest, decked courtyard, massive fireplace and a coffered ceiling, gourmet kitchen, guest studio & more! MLS# 264893 More info
Featured Realtor

Please Contact Michelle:
707 845-1609
email Michelle Voyles

1.6 Acres - Big Bar
Two separate parcels: one is 1.6 acres, with a mobile home and potential for another residence. Second is .63 acres Zoned unclassified commercial. MLS# 264793 More info

3 Bedrooms 3 Baths - Weaverville
Aside Weaverville Golf course with mountain views, hardwood floors, quartz countertops, redwood deck, top of the line hot tub built into the deck, sauna,MLS# 264718 More info


.17 Acres - Eureka
Great Cutten Neighborhood with fabulous views, schools nearby, minimal traffic.MLS# 264016 More info

2 Parcels - Myers Flat
.28 acre parcel in the front and a 2 acre parcel in the rear. The rear parcel is zoned Ag.Power, water and septic system all present. MLS# 263128 More info