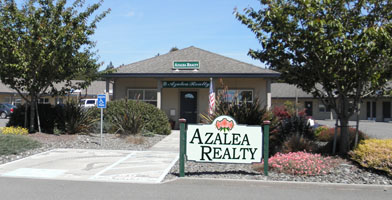 Welcome to Azalea Realty!
Humboldt County Real Estate Experts, serving Eureka, Mckinleyville, Arcata, Blue Lake, Trinidad, Willow Creek, Ferndale and all points between. Buy or sell your property with Azalea Realty.
Looking for property - residential, land, commercial?
First, review our
Office Listings
for sale below, or you can

Or only view
NEW LISTINGS and BACK ON MARKET in last week
Looking to visit Open Houses?

4 Bedroom 2.5 Baths - Arcata

Close to town & Redwood Park, designer kitchen, lvg room gas stove, dining area, built-in vacuum system, bamboo floors, Mirador Glass light fixtures, one-year old roof, forested views.
MLS# 241708
More info
3 Beds 2 Baths - Arcata

2,115 sq ft. Renovated classic home features maple floors, cherry and maple cabinets, granite & stainless counters, windows high and low, wrap-around deck, small indoor pond near entryway.
MLS# 241788
More info
3 Beds 2 Baths + Studio - Arcata

2,070 sq ft. on 2.8 acres. Large rec room, wood stove, sunroom, a swimming pool!, newer roof, new exterior paint, extensive decking. Unit 2 is a chalet style studio. There is a large garage plus a greenhouse as well as a shop/shed.
MLS# 241645
More info
3 Beds 2 Bath Home + 2 Bed 2nd Unit - McKinleyville

1,897 sq ft. on .8 acres. Two-story home in great conditon, with new roof, RV parking, more. 2nd unit has own yard, deck & hot tub. Good location, near Hammond Trail.
MLS# 241657
More info
Featured Realtor

Please Contact Linda:
707 845-4597
email Linda Eckert
3 Beds 2 Bath - Northeast Humboldt

1,530 sq ft Excellent condition, fully fenced, enclosed patio with hot tub, Attached 2 car garage with work space, covered front porch, raised garden beds, a grape arbor, 2 carports and 3 Storage sheds.
MLS# 241150
More info